Advanced Ceramics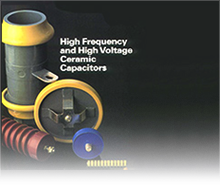 We can supply a range of high voltage resin encapsulted disc capacitors. These capacitors are designed to function in high peak current circuits.

Morgan Electro Ceramics' applications engineers are always pleased to assist and advise customers seeking new solutions to problems involving dielectric materials and components.

We manufacture an extensive range of ceramic capacitors for High Voltage DC, including Pulse Power, High Voltage AC and High Power Radio Frequency(RF) applications.