Seal, Bearing, Rotor & Vane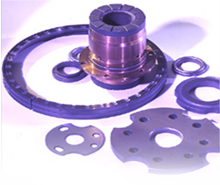 M Carbon Sdn. Bhd. is also supplying Morgan AM&T's manufactured wide range of carbon products such as seals, bearings and vanes along with a variety of carbon moulds and electrodes, combined with a wide range of PTFE compounds containing either carbon, glass or bronze. These products are suited , however not limited to industries including:
OEM manufacturing
Aluminium industry
Steel manufacturing
Paper & Pulp producers
Glass Industries
Pump and Compressor - OEM and Repairs
Chemical, Gas and oil industries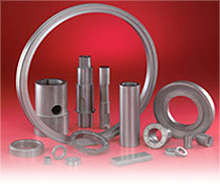 Fluid Handling
Where there are rotary pumps, there are usually mechanical seals. The objective of the pump is to move a fluid from one place to another; the role of the pump's bearings is to support the rotating shaft; the role of the mechanical seal is to isolate the fluid being pumped from the bearings and the surrounding environment. Morgan's brand is the major supplier of the most critical components of the mechanical seals - the faces.
Some pumps are designed without a mechanical seal. In these situations, the pump bearings are expected to be self-lubricating, product lubricated, corrosion resistant, and/or abrasion resistant. Morgan provides these unique materials as well.
Another group of pumps use vanes that move in and out of a rotor in an eccentric housing to create positive displacement of fluids. Morgan's materials have been used with great success as the various components of rotary vane compressors.
With a wide and continually expanding range of carbon and silicon carbide materials, Morgan is a globally recognized brand of seal faces, bearings, rotors, vanes and other technical solutions required for a large variety of applications.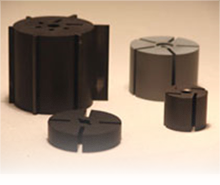 Rotors and Vanes
Rotary vane compressors can be used to push or pull gases and liquids. Carbon graphites have been successfully applied to the various components of these compressors, including the vanes, housings, rotors, and endplates. Applications range from the sampling of toxic gases to the supply of fluids for human consumption.