Home

M Carbon Sdn. Bhd. is an exclusive distributor appointed by Morgan AM&T in Malaysia for the supplying of carbon brushes, brush holders, linear current collectors, diagnostic and maintenance products, seal, bearing, rotor, & vane, thermal ceramics, advance ceramics, AEGIS Bearing protection, rotary transfer system, and rigid board insulation, and the related products. We are committed to serve the general industries other than railway industry in Malaysia.
Our Principle, Morgan AM&T is a globally recognised company specialized in advanced materials technology with unparalleled expertise in the processing and applications of carbon, graphite, silicon carbide, oxide ceramics and other related materials.
more...
Carbon Brushes for Different Industries
Morgan AM&T produces world class carbon brushes. Selecting the correct grade carbon brush is important for commutator performance, maximum brush life, and high motor performance. Morgan manufactures and designs many patterns
more...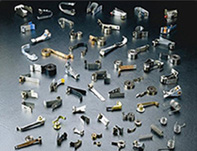 Quality Brush Holders

We are a high quality supplier, gaining our reputation from our technical expertise and understanding the customer needs. The stocked range includes the "Calliper" type Double Arm holders for simple slip ring applications through to the popular cast body, constant force

more...